Free shipping over 200 USD
poseidon reef
Featuring a state-of-the-art dive log, planner and device configuration, Reef provides a complete dive tool for every diver no matter experience, level or dive style. It is designed to maximize your passion of diving by extending the experience before and after the dive.

Now, take the power of the Reef app with you wherever you go, not only for planning and diving but also for effortlessly updating the firmware on your devices.

Bring all the power of the Reef app wherever you go.

Dowload for Windows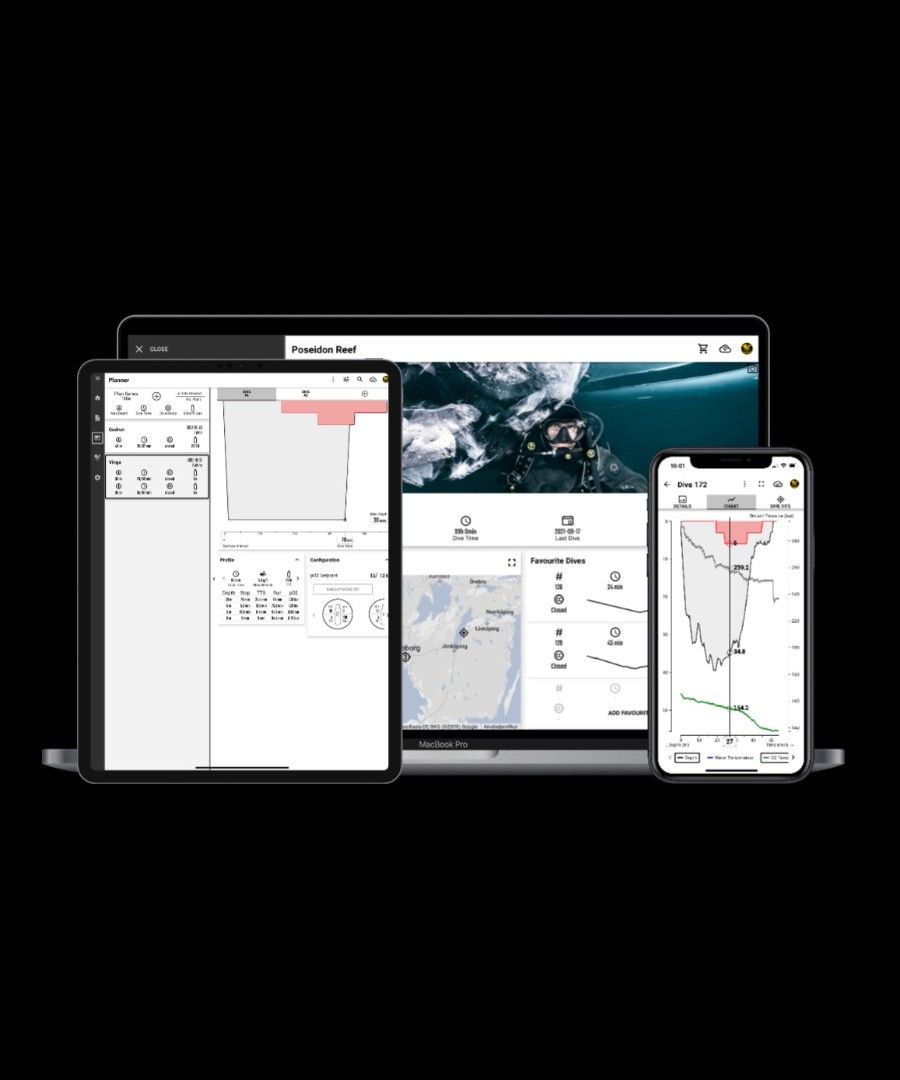 on all platforms
Now you can use Reef on all your devices. Download it to your phone, tablet or desktop and explore a world of pre-dive functionalities and a comprehensive dive log with impressive analytics.
Dowload for Windows
plan
Plan your next diving adventure in the simple to use, easy to navigate interactive planner. Diving an open circuit or rebreather? Doesn't matter. The Reef app has different dive modes and deco models available to match your setup and preferences regardless of level.
Choose between single dives or a series of dives and let the app calculate needed decompression stops. Easily tune the gradient factors to see the difference in dive time and get a summary of the result as well as a detailed list of run time and gas switches if applicable.
DIVE
Safe diving made easier. Get the most out of Reef by connecting your Poseidon dive computer and bring your plan to the water. Interact an analyse your dives using the chart functionality. Toggle the data you want to visualize and zoom in on portions of the dive you are interested in.
Our M28 diving computer can be used as a stand-alone computer, a back-up or together with our Solid-state O2 sensor connected to any other rebreather on the market.
analyse
Become a better diver with the advanced dive log that helps you analyse your recent experiences under water in detailed data and user-friendly designed graphics.
Visualize data such as depth, water temperature, tank pressure, loop temperature, po2, alarms and more.
Personalize your log with pictures, notes and get your hands on every detail available from standard dive stats to environmental information and device statuses.
Compare data with your instructor, buddy, team or easily share your experiences with your family and social community whether it is online or in real life.
device manager
Rebreather management is made hassle-free with the Reef app, which includes the convenience of keeping your firmware up-to-date. Easily access updates that are fully compatible with your rebreather system.


Designed by divers. For divers.
"The mission was to create an easy to use, easy to navigate application to first of all support the Poseidon rebreather divers around the world for a much more convenient way to connect and update their equipment. As a diver I also saw the opportunity to create something bigger. Scanning the dive application market I realized no one had made the perfect combination of a planner, dive log and an analyzing tool. On one hand they were either too technical with just numbers and no visual graphics to support the data and nowhere to put my personal notes or add my favorite dive spots to a map. On the other hand they were too general with no customization available for adding different gas blends etc. I assembled a team from both Poseidon and divers in my community and started to build what I believed is the most sophisticated diving tool. With the feedback from BETA testers around the world we knew the development was made with the interest of the divers in mind. This in dept dive app supports every diver, nothing is left untouched."
- Filip Petersson, Developer
Dowload for Windows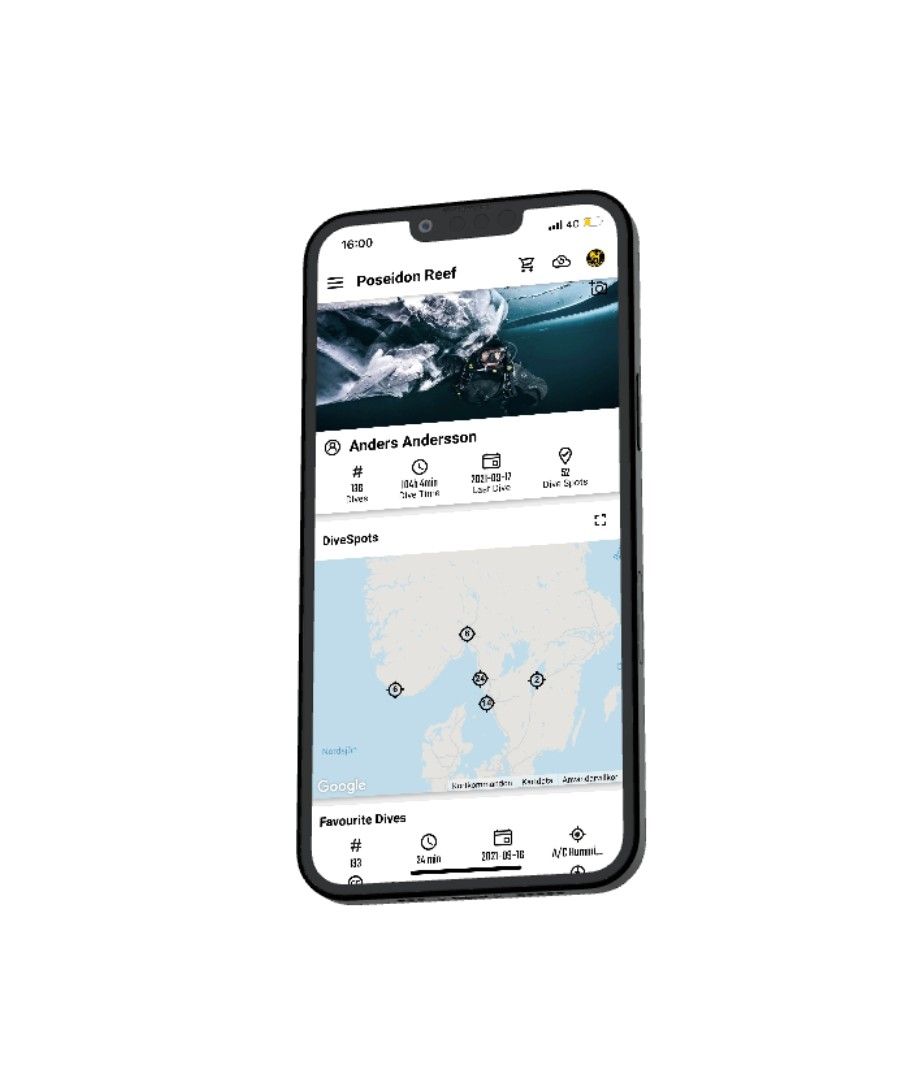 features
PLANNER
Keep track of all your upcoming dives with a comprehensive overview
Sort, filter, and organize your dive plans
Plan for a single dive or a series of dives
Suitable for OC (Open Circuit) and CCR (Closed Circuit Rebreather) dives
Supports an unlimited number of tanks
Choose between DCAP and Buhlmann decompression models
Bailout scenario
Configure gas content
DIVE LOG
Get a comprehensive and detailed overview of all your dives
Easily sort and filter to find specific dives
Import and export dives effortlessly in UDDF*
Personalize dives with custom details, photos, location and more
Engage with your dives using the interactive chart functionality
Visualize intricate data like tank pressures, pO2, loop temperature, etc
Choose the data points you want to see
Zoom in on portions of the dive you are interested in

*Universal Dive Data Format
DEVICE MANAGER
Connect your Poseidon M28 dive computer through WiFi
View details about connected submodules
Download, store, and back up your dives in the cloud
Access vital service information
Monitor total dive time
Stay updated with firmware information and easily upgrade your dive hardware firmware to ensure optimal performance